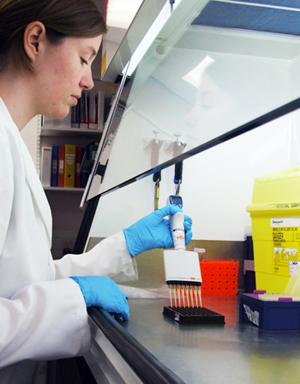 Sample processing
DNA and RNA extraction from a variety of tissue sources. We can also isolate PBMCs, plasma and serum as well as other biological sample types. We are a member of the DNA Genotek Partner Programme for processing their innovative sample collection kits.
Biobanking
We provide secure sample storage in our audited and monitored freezers. Good sample tracking underpins all subsequent genetic analysis so we have invested in a Laboratory Information Management System (LIMS) that tracks each sample through the workflows in the lab and ensures fully audited sample data.
Genetic Analysis
Sequencing
Our Sequencing platforms are Ion PGM, Ion Proton and Illumina NextSeq. We also have an Oxford Nanopore MinION. We provide rapid turn-over of DNA, RNA and ChIP-seq data. We are proud to be a member of the Ion Torrent™ Certified Service Provider Program.
Genotyping & Gene Expression
High throughput genotyping and gene expression arrays are provided on the Illumina HiScan. Taqman genotyping and gene expression assays are provided on the QuantStudio 12K Flex platform. Throughput of the Taqman assays can be increased by using OpenArray technology on the QuantStudio.
Epigenetics
We offer Genome-wide methylation arrays on the Illumina HiScan. For further quantification of methylation status and validation of EWAS studies we use pyrosequencing on the Qiagen PyroMark Q24. To differentiate different epigenetic marks, such as 5-hydroxymethylcytosine, we offer ChIP-seq and MeDIP-seq on the Ion Proton.
Our team aims to provide an accurate, reliable and efficient service that can be tailored to an individual project.
Who to contact?