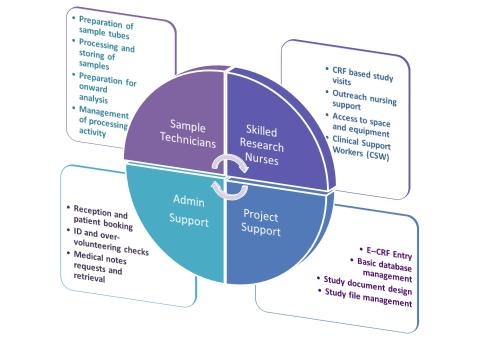 Skilled research nurses, clinical support workers, sample technicians and project assistants support research teams to efficiently manage their projects. The portfolio of studies we support is diverse in clinical speciality and can range from Clinical Trials of Investigational Medicinal Products (CTIMPs) to studies being undertaken as part of an educational qualification.
As MHRA Phase I Accreditation Scheme certified units participant safety and data quality are embedded in our everyday practice. Ever responsive to the changing clinical and research environment research nurses work to competency based training packages including where applicable NHS Lothian, CRF specific and sponsor specific competencies.
Developments
In June 2015 we created the role of Lead Nurse for Phase I and Education. This role is dedicated to support the delivery of our early phase and complex trials and to support the development and training of our nursing teams across all sites.
Researchers and Nurses of the future
As NHS clinical department we support placements for student nurses, school pupils and students undertaking the MSc in Clinical Trials at University of Edinburgh. Several research nurses are trained student mentors and supervisors providing a diverse experience for students in training across disciplines.
We welcome groups and visitors from all walks of life interested in what we do.
Feedback
We are continually looking to improve the care and facilities for our patients and participants. We therefore run patient experience surveys every 6 months to ensure our patients and participants have the chance to feedback on what's good and bad about taking part in research and to inform us how we are doing and what we can do better.