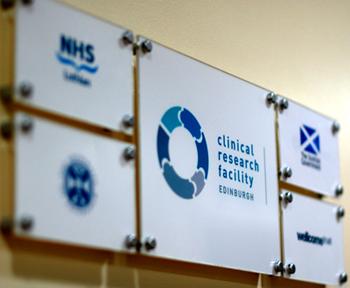 Experienced project support, study information and QA teams ensure that studies running in Edinburgh CRF are conducted in line with current governance and regulatory requirements.
Our Research Support Core provides operational support for all Edinburgh CRF Cores including:
Quality Assurance
Ensure study activities within the CRF are compliant with regulatory and governance requirements.
Manage CRF specific Standard Operating Procedures, Risk Assessments and training records.
Coordinate the Phase I Study Review Committee including preparation of Risk Assessments.
Oversee the conduct of Phase I and First in Human (FIH) studies from inception to close down.
Prepare for GCP inspection and Phase I accreditation by Medicines and Healthcare products Regulatory Agency (MHRA)
Phase I and First in Human (FIH)
Study information management
First point of contact for researchers wishing to use the CRF.
Collate and cross check essential documents for studies running in the CRF.
Prepare studies for review and approval by the Operational Management Committee.
Manage Service Level Agreements between the CRF and researchers.
Oversee the regulatory 'Green Light' process to ensure that studies do not start until all approvals are in place.
Provide regular updates on study activity, occupancy and visit numbers.
Administration
Financial tracking for studies.
Purchasing, procurement, invoicing.
Reception, general enquiries and room booking.
Who to contact?
Reception - info@edinburghcrf.ed.ac.uk – 0131 537 2591
Contact the Study Information Manager (Phone: 0131 537 3359) or email

CRF.StudyInfo@ed.ac.uk for help with your application to use Edinburgh CRF.